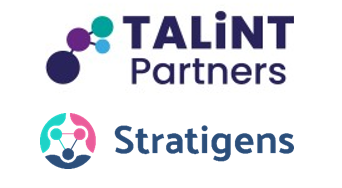 TALiNT Partners and Stratigens are proud to announce a strategic partnership which will provide an unparalleled range of talent intelligence solutions to the needs of our members, partners and clients.
Alison Ettridge, CEO of Stratigens said "Companies do research on their customers, their markets and their competitors to inform decisions all the time. With Stratigens, they can now do research on the greatest asset –access to the workforce and people they need to deliver their strategy. Our partnership with TALiNT Partners will support our mission of putting human capital at the heart of business decision making. We are really excited about working with the team to overlay the insight that TALiNT Partners' network bring with labour market data so we can empower HR, TA and business leaders to make critical strategic decisions."
Ken Brotherston, CEO of TALiNT Partners added 'for some time we have been looking for a partner to support the insight generated by our network with global workplace data to bring a unique offering to the market. Stratigens is the perfect partner to help us achieve this and together we look forward to continuing to help raise capability in how employers find and keep the people they need and how staffing and talent solutions providers can support their clients better.'
About Stratigens
Stratigens software is helping the world's best companies make smarter decisions about where to grow, who to hire from and the diversity of their workforce. We join the dots between the labour market, economics and locations. Putting human capital intelligence at the heart of decision making.
We live in a world rich with skills and geo economic data, but the data is messy, unstructured, big and in thousands of places. Stratigens uses the latest in machine learning and big data to gather, extract, categorise and label the data, and put it into a format that's easy to digest. So our clients can make smarter, faster, more informed decisions.
Stratigens - https://www.stratigens.com
About TALiNT Partners
TALiNT Partners connects the talent ecosystem. We bring together a global network of leading employers and solution providers to make better talent and technology decisions. Providing intelligence, insight and peer-to-peer networking that drives quality, innovation and improves inclusion across the talent ecosystem
TALiNT Partners - https://talintpartners.com
If you would like to know more about the partnership, please contact Alison Ettridge, CEO of Stratigens alison.ettridge@stratigens.com